Upfront Pricing - No Suprises
No contracts. Cancel anytime. 100% satisfaction guaranteed.
Design & Setup
Investment
ESSENTIAL 5 PLAN
Professional Site Design
Includes first 5 pages*
Google Maps Integration
Connect Social Media
Website Security (SSL)
Mobile & Desktop Design
SEO Search Engine Optimization
Cross Browser Testing
Connect Your Domain or Free Domain Name
Dynamic QR Code for Website and Storefront/Sign/Reviews
ADA Compliant Widget

Add Ons:
Ecommerce Solution-
Using your existing PayPal account, you can now sell online using the OceansideLocal.com platform.
Suitable for clients selling 100 items or less.
We do not charge any additional monthly fees or commissions.
Setup: 
$199/one time
CUSTOM WEBSITES:
GROWTH 10 PLAN
(MOST POPULAR)
Includes Up To 10 pages*
$999
/
One Time
PROFESSIONAL 15 PLAN
Includes Up To 15 pages*
$1499
/
One Time
ORGANIZATION / CHARITY / CORPORATE / CHAMBER OF COMMERCE / NON-PROFITS / SYNAGOGUE / CHURCH / GROUPS / ETC.
50 PLAN
Includes Up To 50 pages*
$4999
/
One Time
We will manage and take care of your website, keeping it up to date and secure. Unlimited Updates. Social Media Connections. SEO. SSL. Everything. 
* Additional pages: $100 each
Unlimited Website Changes & Updates - We Make Updates for You
Worry-Free Cloud Hosting
Desktop, Tablet & Mobile Optimization
Ongoing SEO - Search Engine Optimization
Real-Time Traffic Stats
Dynamic QR Code Stats
Site Login Credentials
Quick Reliable Local Support
Quarterly 1-on-1 Conference Calls
100% Amazing Customer Service - You Call, We Help.
Track all of your clients' online reviews from the top review sites including Google, Yelp and Facebook in real time

Daily Reputation Reports are personalized for you in a daily email in order to give you powerful insight into key metrics such as average star rating, total reviews, reviews by star rating and more

You can easily identify who, when and where reviews were posted so you can respond to customers in a timely manner

Prevent negative reviews from being posted by allowing your customers to share their concerns directly and discreetly with your organization, before posting publicly. Plus, increase your online ratings: by collecting more 5-star reviews from existing happy customers using our smart, Review Request Form.

Review Monitoring
Daily Reputation Reports
Email Notifications
Respond to Reviews
Stop Negative Reviews - Prevent negative reviews from going public by allowing upset customers to share their concerns directly and discreetly.
Increase Positive Reviews - Help your clients get more 5-star reviews by requesting positive reviews from happy customers.
Direct Mail Postcards, Letters & Mailing Lists
.67¢
/ As low as 0.67 per postcard
.82¢
/ As low as 0.82 per letter in envelope
.07-09¢
/ As low as 0.07 per targeted lead
Website Cost Comparison
See how our pricing stacks up against the competition.
The Competition
$3,000+
Average Cost of a Small Business Website
The Competition
Thousands (first year)
Hundreds thereafter
The Competition
+$150 per year (approx.)
SSL Certificate?
For a safe and secure site connection.
The Competition
+$149 per year (approx.)
The Competition
Additional $$$ Most web designers charge extra for a mobile site
How much for ongoing updates?
Our Company
Easily make updates yourself,
or we will do it for you.
The Competition
$75/hour (approx.) Average hourly rate for web designers
What about SEO?
(Search Engine Optimization)
The Competition
$100-300/hour (approx.) Average hourly rate for SEO
How long until my new website is live?
Our Company
Go live in as little as 1 week!
The Competition
60 - 90 days (approx.)
Our Company
Affordable pricing, must-have features, reliable support and a fast and easy setup process.
The Competition
Thousands of dollars upfront, hundreds of dollars a month, pay for updates, and months to build.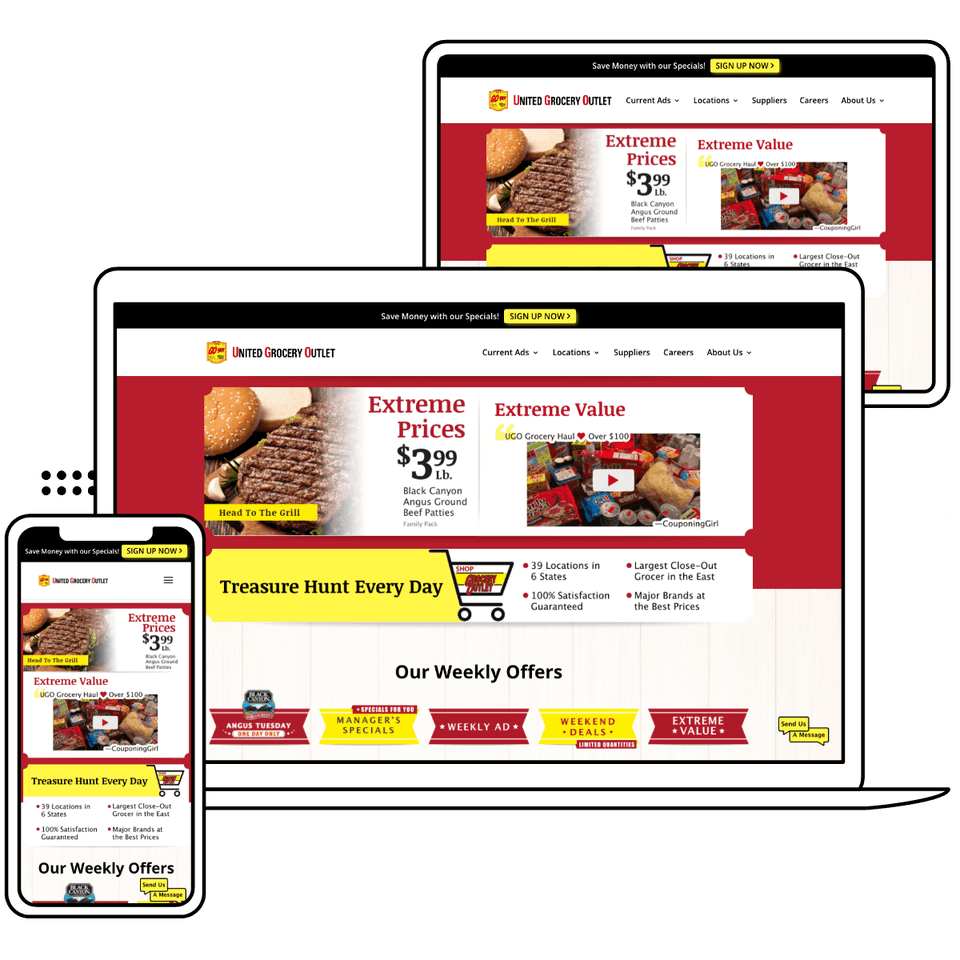 Get new visitors, new customers, and new growth with a website that works!
SEO content to rank in Google
Business-owner login for quick edits
Ongoing support from real people
Website design that engages customers
With a simple phone call or text, you get a real person to make the changes for you. Quickly.
We make small business websites for businesses just like yours. We have real tips, suggestions, and insights how to help your business look professional, build credibility, and get more customers.  Since 2004 we have been helping small businesses grow.
 
Work with the best and at the best prices.
With OceansideLocal, you don't have to sacrifice quality for affordability. We offer the best of both worlds – top-notch website design services at prices that any business can afford. Contact us today to get a professional website that meets your needs and budget.